Five more track cyclists to join Azizul and Co at Melbourne training base
KUALA LUMPUR: The Malaysian track cycling family in Australia will be expanded to eight riders next week.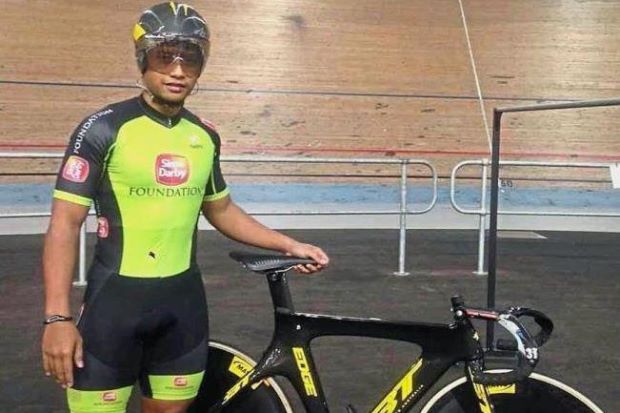 In for hard work: Kuala Lumpur SEA Games-bound Shariz Efendi Shahrin will train under coach John Beasley in Melbourne for the next four months.
Five more cyclists – Khairil Nizam Rasol, Mohd Fadhil Mohd Zonis, Shariz Efendi Shahrin, Anis Amira Rosdi and Farina Shawati Mohd Adnan – will train with Azizulhasni Awang, Fatehah Mustapa and Muhd Shah Firdaus Sahrom in Melbourne for the next four months.
All eight will be competing at the Aug 19-31 Kuala Lumpur SEA Games.
The Malaysian National Cycling Federation have targeted 13 golds – 11 from track and two from the road team – at the Games.
Track coach Junaidi Nasir, who will assist Australian John Beasley in Melbourne, said the five new inclusions would not only be preparing for the Games during their stint.
"We are also training them to qualify for the four World Cup meets (for the 2017-2018 season) at the end of this year.
"We hope to have more higher-ranked cyclists in the world rankings so that we can earn more spots in the 2020 Tokyo Olympics.
"The riders will compete in the Taiwan and Japan Track Cup meets in June and July to start earning ranking points."
When asked about the 13-gold target at the Games, Junaidi said: "The cyclists know what they are capable of and, hopefully, we can achieve it. But I don't want them to be just contented with glory at SEA Games level.
"Next year is an important year with the Commonwealth Games in Australia and the Asian Games in Indonesia, so it's not too early to start grooming them."
A total of 20 golds will be offered in cycling at the SEA Games. The track events, offering 13 golds, will be held at the newly-built Nilai Velodrome.
The road and BMX events will also take place in Nilai with seven golds at stake.

Read more at http://www.thestar.com.my/sport/other-sport/2017/03/29/itll-get-bigger-down-under-five-more-track-cyclists-to-join-azizul-and-co-at-melbourne-training-base/#xoWlpojs5Mbm41xS.99