Details

Hits: 6078
A never-give-up attitude saw Azizulhasni Awang fight back from the brink of defeat to ensure Malaysia go back with at least one gold medal in the elite ranks of the Asian Cycling Championships in Jakarta, Indonesia.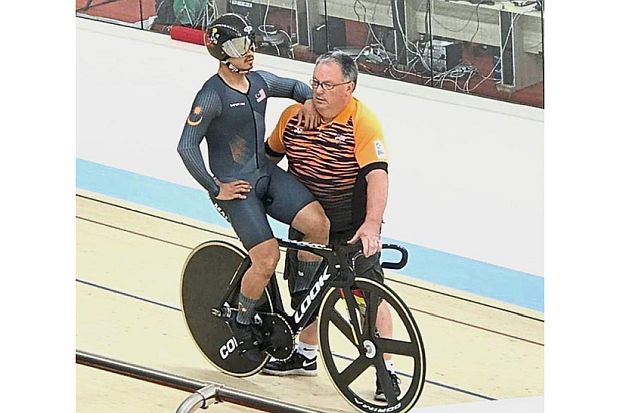 The 31-year-old cyclist lost the first heat of the final to China's top sprinter Xu Chao and the pressure was on him to win the next one to keep his dream of regaining the Asian title alive.
Azizul did not disappoint as he came back strongly in the second heat to beat Xu Chao, who is seven years younger.
Azizul later returned to the track to beat his opponent in a nail-biting shootout, which was decided by photo-finish.
His previous victories in sprint were achieved in 2008, 2009, 2014 and 2017.
Azizul also won in keirin in 2007, 2008 and 2015 apart from a successful team sprint challenge in 2009.
Training partner Mohd Shah Firdaus Sahrom claimed the bronze with a superb performance to beat defending champion Kazunari Watanabe of Japan in two heats earlier.
Azizul defeated Shah Firdaus in two heats while Xu Chao earned his shot at gold after beating Watanabe in similar fashion.
Azizul did not start well as he only managed to finish 10th in the qualifying rounds earlier in the day.
China had the two fastest sprinters in the fray in qualification in Xu Chao (9.846) and Zhou Yu (9.950), followed by Japan with Nitta Yudai (10.001) and Fukaya Tomohiro (10.038).
Shah Firdaus Sahrom placed sixth with 10.094.
In the first round of the knockout stages, Azizul beat Pavel Vorzhev of Kazakhstan while Shah Firdaus overcame Kang Shih-feng of Taiwan.
Azizul and Shah Firdaus booked their spots in the last four after knocking out Zhou Yu and Yudai respectively in two heats.
Azizul reached the sprint final when Malaysia hosted the Asian meet in Nilai last year but settled for silver behind Watanabe.
Shah Firdaus' younger brother Mohd Ridwan Sahrom clinched the bronze in the men's junior sprint after beating fellow Malaysian Fariz Haikal Mohd Kadir in two heats.
Ridwan and Fariz were beaten by Indian riders Esow Esow and Ronaldo Singh in the semi-finals earlier.
World No. 1 Esow Esow went on to beat Ronaldo in two heats in the final, adding to the sprint and 1km time trial victories earlier.
Sabah-born Waldron Chee also made an impressive debut by winning bronze in the men's junior 3km individual pursuit by beating Japan's Hiroto Shinomiya.